Assisted Living Facility Kitchen Design
Assisted living facilities are being redesigned and remodeled all over the country. Residents want more modernization – and chefs want to bring in more exciting menus. The host kitchen of an assisted living facility can be designed in so many ways. By exploring some of the options with the design and getting creative with floor planning, you can have a space that residents and staff alike will love.
Click to learn more about our company.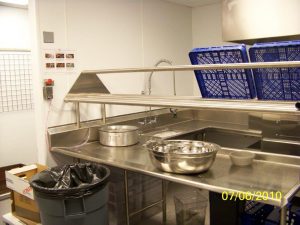 Assisted Living Facility Host Kitchen Design
The design of your assisted living facility can take on all sorts of layouts. Consider how much space you have, how much cooking you'll be doing, and how you'll be serving the residents.
You can choose an assembly line layout if you're going to serve residents directly from the kitchen.
You can choose a zone-style layout so that residents can visit the stations that interest them.
You can even choose an open kitchen or galley layout if you plan on plated meals that will be delivered to residents by servers.
What's important is that you have a kitchen that makes sense for your assisted living facility.
More senior living facilities are taking a sharp turn toward sleek and modern. What this means for you is:
Streamlined designs
Elimination of clutter
Communal dining
Many residents want to feel as though they're walking into a food court – they want options. When mobility is an issue, however, there are still options – including high-end menus that can be delivered to the table or delivered right to their rooms.
It all comes down to this in the commercial kitchen design: make it feel like home.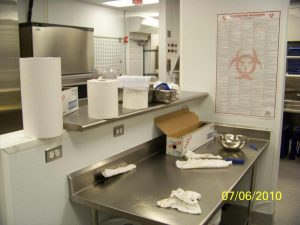 Assisted Living Facility Kitchen Equipment
The equipment that you need will vary based on the type of menu you plan to serve. With more residents and more options comes the need for more equipment.
Here are some of the basics:
Refrigerators and freezers
Prep counters
Ovens and ranges
Serving stations
Merchandisers
Dining room furniture
Make a list of what your average weekly menu will contain. Then, consider what's involved with the storage of the ingredients, the manner in which the food needs to be prepped, and how you're going to cook it all. This can make it easier to determine how much equipment is needed.
As you make a list of equipment you need, consider the trends you may want to embrace. This can include fresh, organic food – requiring more refrigeration and less pantry space. Incorporate a more relaxing dining area with skylights and large windows.
Flexibility and mobility are key in an assisted living facility. Make it easy for residents to walk around. Make it easy for you to adjust the height of furniture to accommodate various handicapped needs. Plenty of furniture is flexible – and it can be what you need to keep residents happy while they are in your dining facility.
By working with a company that will help you with equipment procurement, you can also be sure that you get all the equipment you need. Equipment can be carefully chosen through a network of providers. Further, they can be shopped to get the most competitive prices.
Help with Bringing the Plans Together
The hospitality industry is always evolving – and it's important that you're able to incorporate the trends that are desired by your residents.
At Mathias Food Service Equipment Company, we listen to your needs and wants. We're able to provide a plan that takes into consideration your budget, your space, and the equipment you want. We'll help you with a full design-build, equipment procurement, and more.
Contact us today to set up a free initial consultation on your school or assisted living kitchen. Together, we can make sure you have an assisted living kitchen facility you can be proud of.