Commercial Kitchen Design
At Mathias Food Service Equipment Company, we draw on our years of experience to work with our clients to define the concept, develop a menu and clarify the methods of production and delivery to their guests.
As the hospitality industry evolves, Mathias continues to embrace the evolution and future of the foodservice industry, resulting in relevant and tangible design solutions for every unique client we serve.
In collaboration with architects, interior designers and operations personnel we ensure that the flow of the food products are most efficient and code compliant.
Whether your kitchen is in a spacious setting in the suburbs or squeezed into tight quarters in a major metropolitan area, the Mathias Food Service Equipment Company design team has the proven experience to provide the best solutions for your needs.
With our extensive procurement and distribution background, the equipment selection process is easily completed.
Primary and alternate manufacturers are selected for each piece of equipment, meeting operational and financial requirements established by the client.
After the project design is finalized, Mathias helps save valuable client time and money by providing clients with bid documents needed to facilitate the final selection.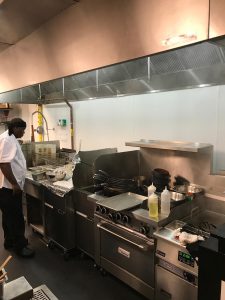 How To Design a Commercial Kitchen?
If you are planning on opening a commercial food establishment, then you understand that one of the most important parts of this process involves the design of your kitchen. You need to make sure that your kitchen is laid out appropriately with the right equipment, and during this process, you will likely have numerous other concerns to attend to, dividing your attention.
You might not have the time or experience when it comes to laying out the perfect commercial kitchen design, and that is where we can help you. We are Mathias Foodservice Equipment Company, and we are here to help you get your kitchen ready for operation.
When designing a kitchen that needs to meet the demands of commercial space, it is important for you to partner with trained professionals who have experience in this industry. That way, you can rest easy, knowing that your kitchen is in the hands of experienced professionals who will be able to help your vision come to life.
We are one of the most trusted names in the industry because we take the time to personalize our services and experience to meet your needs.
We will take the time to listen to exactly what you need, and we will figure out how we can get you there.
Instead of providing you with cookie-cutter commercial kitchens, we provide you with a kitchen that has been personalized to meet your unique needs.
How to Build a Commercial Kitchen?
Nothing is more satisfying than being part of a client's "vision" and sharing their journey until the project is completed.
This model provides for all, or a portion of the design fee, to be applied toward the purchase of the food service equipment for the project.
In a bid environment, manufacturers are restricted by law from offering different prices to bidders.
In the design-build model, Mathias utilizes its buying power to negotiate with each vendor the lowest price possible. In addition, we offer the following service:
Project Management Mathias Food Service Equipment Company will facilitate coordination between the General Contractor and his trades for your project.
Staging and delivery Mathias will receive, uncrate, inspect and assemble at our warehouse. Damaged or incorrect appliances are replaced prior to scheduled delivery. Our delivery team is the best in the industry. We have a 100% on time delivery, which is no small feat after over three decades in business.
Training A Certified Foodservice Professional(s) will instruct you and your staff on how to efficiently use and maintain each piece of equipment.
Service For the first year, Mathias Food Service Equipment Company will dispatch required service agencies. Many times we can save you non-warranted service calls by walking clients through a series of pre-checks before dispatching service. Service logs by manufacturers are reviewed annually. Manufacturers must meet the highest level of product integrity to be specified by Mathias. Design-build is only an option for clients located in our distribution area.
Free Initial Consultation
All business relationships begin with a handshake. We will meet with you to determine the overall scope of your project and discuss your individual commercial kitchen design needs.
Since we were founded we have provided "design-build" services in the United States, Canada, and the Caribbean.
The design fee is applied to the purchase of equipment from Mathias Food Service Equipment Company. In 1999, Mathias Design Group was formed to provide based design for our global clients and clients with established procurement relationships.
We have successfully completed an entire spectrum of over one thousand five hundred projects.
These projects include, both new construction and renovations ranging from 200 to 27,000 square feet, with budgets ranging from $35 thousand to $3 million.
The diversity of these projects offered us the opportunity to gain a notable and proven understanding of institutional operation functionality in a variety of market segments such as higher education, K-12, healthcare, restaurants, churches, corporate dining and resort facilities.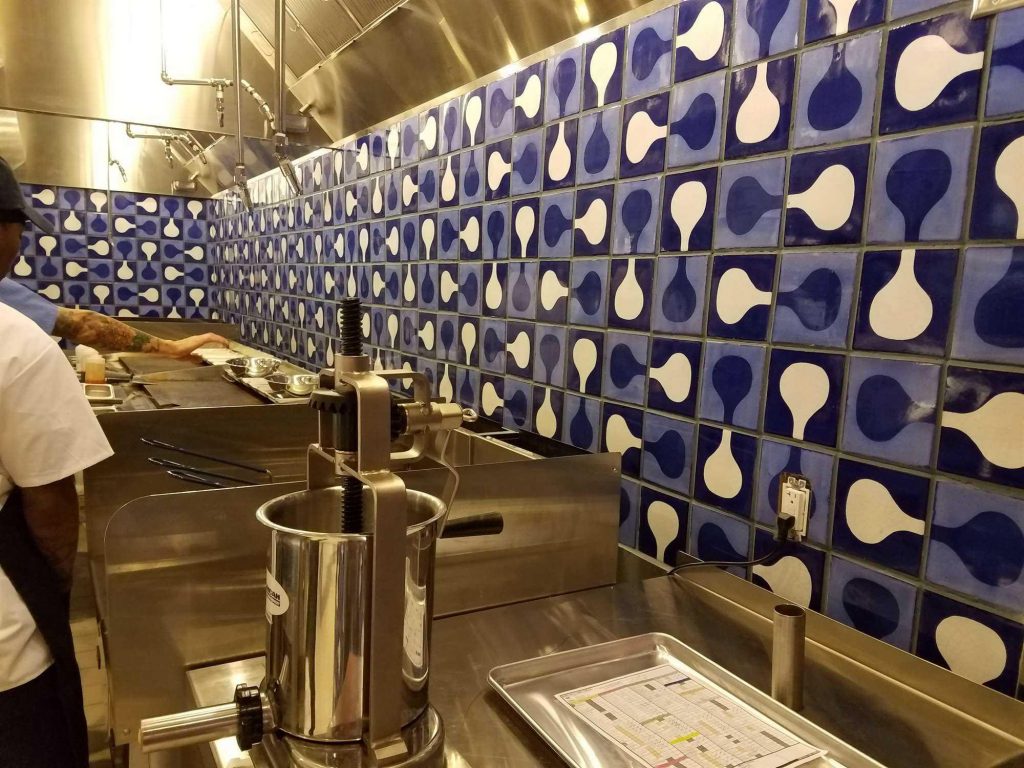 Architect's Corner Design Services
Whether the project is a "design-build" or "fee" based, the flow of information and document preparation is the same.
Mathias Food Service Equipment Company coordinates with the Architect electronically utilizing AutoCad as the drawing platform.
Working with the base plan from the Architect we will provide:
FS-0 General construction notes/index: This sheet establishes the responsibility of the General Contractor, electrical, plumbing, and mechanical trades. It also contains the index food service sheets included as the project progresses.
FS-1 Plan This sheet establishes the base of the design set. It contains the layout in imperial or metric scale. Once approved by the client, the balance of design competencies is completed. Introducing the interior design furniture plan is typically used for initial health department review.
FS-2 Schedule:
This sheet provides a detailed utility schedule with the individual requirements for each item displayed in matrix format. It defines manufacturer, model and accessories.
FS-3 Electrical & FS-4 Plumbing Rough-In Drawings: These sheets provide detailed electrical and plumbing rough-in drawings to assist the architect, engineer, general contractor, and construction trades in the accurate placement of the utilities. Design-build also includes dimension rough—in drawings at the time of permit.
FS-5 Mechanical: This sheet provides the Mechanical Engineer critical ventilation requirements to design an efficient exhaust system(s).
FS-6 Elevation, Isometric, & Detail Drawings: Depending on the client, Mathias will provide general elevations and/or detail drawings of selected pieces or areas to give you a clear idea of the final look of your design. We can also provide these drawings as needed to obtain quotes and shop drawings for custom equipment for the manufacturer to ensure each piece is designed accurately. We can also assist in the creation of their 3D modeling and rendering to ensure an accurate portrayal of the facility.
FS-7 Building Conditions: This sheet shows required beverage chases, floor depressions, wall heights and required wall backing.
Equipment Specifications: We provide equipment specifications and schematics of each item broken down into a detailed description (including all options and accessories). In a "fee" based design Mathias Food Service Equipment Company will provide a complete bid specification set utilizing AIA 11400 format. Mathias will provide budget equipment costs to aid in the financial planning of the project.
How Do We Coordinate with the Owner, Architect and General Contractor?
Before you open a new food service facility or upgrade an existing one, you must have a plan.
The layout and design for a food service facility is one of the most important parts of the overall project plan.
The "menu" and an understanding of the client's culture are critical to a successful design.
Our commercial kitchen design services team will work with you and your architect, engineer, interior designer, and general contractor to ensure an accurate design and well-coordinated workflow throughout the project.
Commercial Kitchen Layout
Whether you are opening your first restaurant, or you decided to renovate and update the restaurant you have, a commercial kitchen layout should be one of the top priorities.
However, you should understand that creating a commercial kitchen layout is not a one-size-fits-all solution.
Every restaurant is different, so you should think about what type of kitchen and design works best in your restaurant environment.
Here are several tips that will help you create the right kitchen layout.
How To Create The Right Kitchen Layout?
Here is what you should do:
Analyze Your Menu
It is impossible to create a kitchen layout without taking the menu of your restaurant into consideration.
Make a list of all meals on your menu, as well as all the ingredients. After that, describe every step to make each menu meal, including the description of all the equipment that is used for cooking.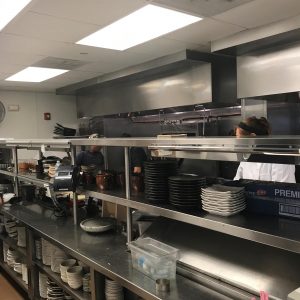 Think About Space Efficiency And Flexibility
It is better and more productive to have a kitchen that is modular and flexible: with equipment on wheels, workstations that you can use for multiple different tasks, and other things that make your kitchen layout more efficient.
Make Sure It Is Simple
It is not easy to cook in the kitchen which is too confusing and complicated to navigate.
Instead, try to make your commercial kitchen as simple as possible.
For example, you can save some space in the kitchen by using equipment that you really need.
Do Not Forget About Food Sanitation And Food Safety
When designing your kitchen, do not forget that there are going to be a lot of dishes, glasses, cutlery, and trays accumulated throughout a busy bay.
Also, remember about the cleaning stations that are also very important in any commercial kitchen.
Make Your Kitchen More Energy Efficient
It is obvious that commercial kitchens require a lot of power, and one of your main tasks is to make the kitchen as energy efficient as possible.
If you do not want a high percentage of your budget to be devoted to energy costs, strategically place your kitchen equipment.
Create A Commercial Kitchen Layout With Mathias
Mathias Food Service Equipment Company is a food service equipment company that specializes in designing commercial kitchens. The mission of Mathias is to create kitchens their clients want and deserve.
We will work with clients from start to finish to make sure they are satisfied with the results. If you have any questions, or you want to know more about our company, feel free to give us a call.
Commercial Kitchen Design
We will provide you with access to the best contractors in the top architects in the industry. Then, we will make sure that everyone is on the same page.
We will act as a liaison between the architects, the contractors, and you. Our goal to make sure that everyone understands exactly what is desired.
That way, you end up with the kitchen you deserve. Finally, we will also work with you from start to finish. We will work with you to develop a layout that works for your kitchen.
Then, we will help you adjust your project as it unfolds. With our experienced project management team, we will provide you with comprehensive commercial kitchen design services.
At Mathias Foodservice Equipment Company, these are just a few of the many services that we provide.
Our goal is to work with you from start to finish, making sure that all of your commercial kitchen needs are met.
This includes both design and equipment needs.
Contact us at (352)326-3434 or fill out the contact form below.