Commercial Bar Design
A commercial bar design sets the pace for your restaurant. Restaurant owners need a professional company with knowledge and experience to set up their bar area correctly. A company whose expertise is in bar designs should be designing, building, and supplying commercial kitchens and bars for the hospitality industry.
A great restaurant bar design is not only appealing to the owner but the patrons who come for service. A great bar atmosphere ensures that the business owner increases their profits when repeat patrons visit their bar and restaurant.
Business owners do not have the time to do all the work needed to develop a commercial bar. Owners need to put their energies into running their business and managing their staff. Leave the design and building to our professionals, as we carry owners through the entire process, including:
Designs
Building
Installation
Our expertly skilled professionals will train your staff on the proper usage of all equipment that is sourced for your bar. Our company's expertise in designing bars and restaurants is unparalleled. We have been in business for over 30-years and have learned a lot about what owners expect and desire. We completed over 1,500 diverse projects, including renovations, new builds, repairs, and replacements. We do not work with residential kitchen designs.
To obtain the perfect design for you, we apply all of our years of experience. We are listeners and hear what our clients say, such as:
Their concept, their vision, their plan
Production methods
Delivery of the perfect bar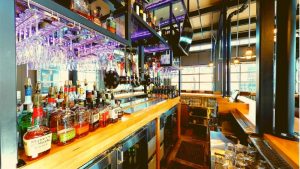 Commercial Bar Equipment
Designs evolve every year, and our professionals grow with the designs trending. Every client is different and has different concepts. We sit down with our architects, personnel, interior designers, and you, the property owner, to ensure that your bar is as efficient and user-friendly as it can be to staff and customers. No matter the size of your bar, we can help you achieve your business plans.
Our experience in design helps to make your dreams come true. We share the vision that property owners have for their perfect restaurant and bar.
Once Mathias Food Service Equipment Company is able to finalize your design and approve it, we talk about the necessary equipment to make your bar successful. We use quality materials and great brands to bring your venue together. We help clients with all the large appliances, refrigeration units, and small but necessary accessories from refrigeration units to drinking glasses and utensils. Our company has an extensive list of all the essential equipment and accessories to compliment your bar.
Our initial consultation is free with no-obligation on your part. Our dealer's list of equipment and all the necessary accessories involves an extensive list, too numerous to mention. We need to walk you through all the components you believe you need for a successful business. Typically, there is a design fee that will need to be paid before we can get started, as we use the funds from this fee towards the purchase of the equipment necessary for your concept. We have many vendors we go to, and we work on your behalf to get you quality equipment at the lowest possible price.
Our company manages your project and facilitates cooperation between the general contractor, our company, and you, the client. We stage and deliver, uncrate, inspect, and set-in place all of your equipment at our warehouse. If a piece of equipment is damaged or the wrong equipment received, we intercept and replace it. Time is of the essence, and we believe in staying on schedule, and we take care of every aspect of the project.
Before your bar and kitchen staff uses any new equipment, we instruct you and your employees to use this equipment efficiently. We do all the training, allowing you time to run your business.