Wholesale Restaurant Equipment in Florida
If you are thinking of opening a restaurant, there are different types of restaurant equipment you will need for your bar and kitchen.
At Mathias Foodservice Equipment, we help our clients with choosing the proper equipment by taking into consideration their needs, budget, and preferences.
Here are the services we offer:
Wholesale Restaurant Equipment in Florida
Mathias Foodservice Equipment is a foodservice commercial equipment dealer that helps clients in Florida to find the exact wholesale restaurant equipment they need.
First, we meet with our clients, discuss their projects, and go over the options available.
Our mission is to make sure that everything relating to our clients' wholesale restaurant equipment runs smoothly, so we always attend planning meetings and work closely with general contractors.
We receive the equipment you order and inspect it thoroughly for you.
If the equipment is not delivered in the condition you expected, we always send it back. You do not have to deal with returning your equipment back to the manufacturer – we will do it for you.
We also warehouse your equipment close to your restaurant, so we are ready to deliver it to your kitchen and put it where it is supposed to do.
At Mathias Foodservice Equipment, we also help with upgrades and replacements.
When it is time to replace or upgrade your restaurant equipment, we will discuss the features that are important to you, and bring you the equipment you need.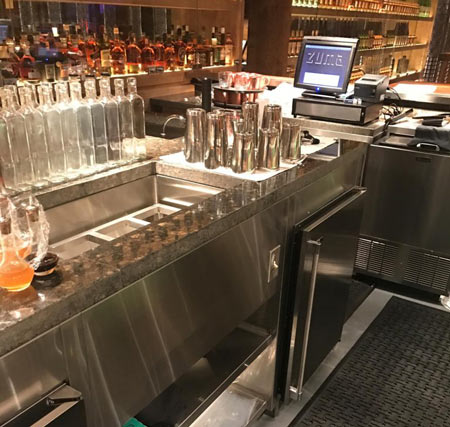 Restaurant Kitchen Equipment
If you are designing your restaurant kitchen and need help with choosing the right equipment, our team is more than ready to assist you.
We specialize in premier restaurant kitchen design and equipment, and we provide the following services:
Project management services to make sure that you hire the right contractors for your restaurant project
Finding the best restaurant kitchen equipment for you. We make sure that you get a great deal on kitchen equipment.
Staging and delivery of restaurant kitchen equipment to make sure that your commercial kitchen layout is perfect and functional.
Training to make sure that you and your kitchen staff know how to use every piece of equipment in your kitchen.
Restaurant Bar Equipment
At Mathias Foodservice Equipment, we also specialize in restaurant bar design and equipment.
We have been designing commercial bars since 1982, and we know how to create a successful bar that will meet all your needs and will exceed all your expectations.
We work with hotels, airports, small and large restaurants, and casinos.
Our mission is to make an ergonomic and efficient bar space.
For this reason, we always make sure we help our clients to choose the best bar equipment based on their space available, budget, and preferences.
We always take time to figure out your preferences and expectations to make sure that we are on the same page.
We work with only primary manufacturers and choose only the best pieces of bar equipment for our clients.
Our staff members always coordinate with you, the architect, and the general contractor.
Give us a call for the first free consultation and more information about the services we offer.