A commercial kitchen is the heartbeat of any facility that serves food. Whether it's a hotel, a restaurant, a nursing home, or somewhere else, the kitchen is where it all happens.
Understanding the costs will allow you to set a sufficient budget.
Although there are some costs that you will have to incur regardless of the size of the kitchen, you have control over a lot.
After all, the cost to operate a buffet is going to be drastically different from operating a four-star restaurant.
Typical Costs for Commercial Kitchens
Building a commercial kitchen can cost anywhere from $15,000 to $100,000 or more. It all depends on the size of your kitchen, the menu, and your overall needs.
Major cities will spend more simply because of the construction costs. So, for example, you'll spend more to have a kitchen built in New York City than you would in St. Louis.
Regardless of where your commercial kitchen will be built, there are factors to explore.
Many will estimate that the cost can be quickly figured at about $250 per square foot.
So, if you have a 1,000 square foot space, it will cost you $250,000. Of course, that's an estimate – there are ways to spend more or less as you get a bit creative.
Factors to Consider in Designing and Building a Commercial Kitchen?
You need to know the cost of building a commercial kitchen. To do that, you have to identify a few basics:
Size of your kitchen
Equipment required
Layout of service
Meet Legal & Health Requirements
When you're standing in the space that will eventually be your commercial kitchen, look around.
Determine what will be needed to ensure you can pass a health inspection. This includes needing sinks, floor drains, and a place to vent your kitchen's hood.
If those things are already in place, you will save money on the overall design.
If you need plumbing installed, electrical run, and more, it could cost you $15,000 or more just to get the space ready to meet the necessary requirements.
Fill Your Kitchen with Equipment
What you're cooking in your kitchen will determine the kind of equipment you need. You'll need things such as:
Refrigerators and freezers
Ovens
Range
Grill
Fryers
Blenders and mixers
Some systems are combo units, designed to save you both space and money. A basic commercial range will cost around $5,000.
If you get one with an oven incorporated into it, it may be only $7,000 – which can be better than buying a range for $5,000 and an oven for $5,000.
The more equipment you need, the more expensive it will be. You can decide whether you want to buy everything brand new or shop secondhand sales.
Create a Layout
Where you install everything has to be considered. You've already factored in the costs of the equipment.
Now, you have to think about where tables, shelves, serving lines, and more are going to go.
Whether you have these installed against the walls or you buy modular units that can roll, there are costs involved.
Modular units can start at $1,000 and go up from there based on the various features they have.
You may need four or five units (or more) depending on the size of your kitchen and the number of stations you'll need to execute your menu.
If you're going to have units installed against the walls, you'll want to factor in more to allow for the construction/installation costs.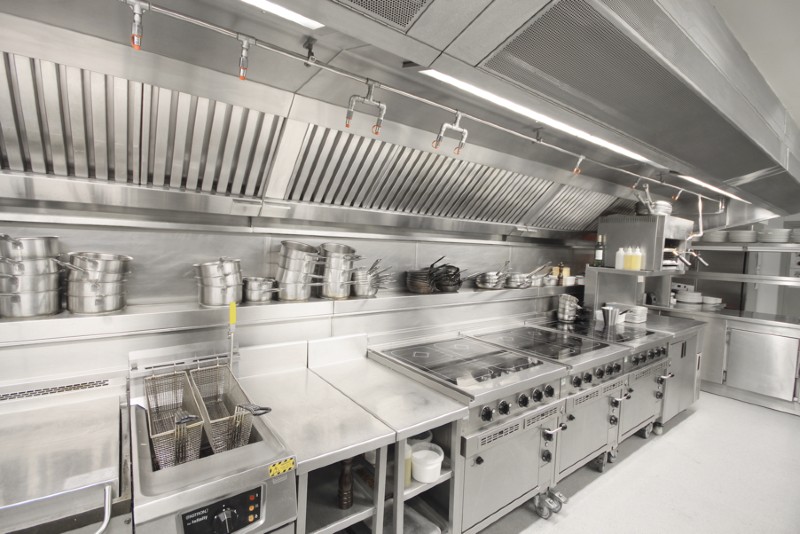 Alternatives to Keep Costs in Check
When costs are a concern, there are plenty of ways to save money.
Start off slow

. You may want to start with a basic menu. This can minimize the amount of equipment you need to start out with. As you start to bring in revenue, you can increase your menu items as you can procure more equipment.

Choose your restaurant space carefully

. Building costs are often one of the highest costs involved with kitchens. If you can find a space that already has many of the components that are needed, you can save hundreds of thousands of dollars.

Upgrade later

. While you may want to do a lot of remodeling upfront, see if some of it can be pushed until later. As long as you can get your facility operational, you can work on improved layouts and such at a later time.
Ultimately, you have to pick and choose what's important to you. If money is limited, make a list of what are "essential" items to help you get up and running.
Once you've met the basics, talk with a kitchen builder to see what kind of plan can be developed so that you can build your dream kitchen in stages.
How to Get Started
Once you know the various factors and how they'll impact your kitchen, you'll want to move forward.
Get quotes from various companies in terms of the design and the procurement of kitchen equipment. By getting quotes, you can be sure you are getting the most competitive prices.
At Mathias FoodService, we are a full-service company that can help you with a design that offers workflow efficiency.
We also have an extensive network of manufacturers to ensure you get the quality equipment you need.
We understand the importance of having a fully operational kitchen. More importantly, we understand that cost is a top consideration.
Contact us today to talk about the needs of your commercial kitchen so we can show you what we can do to help.
Please note that prices on many products have been rising due to supply chain issues, and our current lead time is about 22 weeks.
We encourage you to lock in the lowest price by getting a quote today – we'll hold that price for you for up to 30 days!