Assisted living facilities encounter a variety of challenges that the average kitchen does not.
There are dietary restrictions that must be dealt with along with catering to the elderly.
More facilities are choosing to follow some of the more modern dining trends, complete with vibrant atmospheres. 
Understanding the latest commercial kitchen design trends in assisted living facilities can ensure that you choose a smart kitchen design with sensible equipment.
Trend #1: Modern, Airy Designs
Many senior housing and assisted living facilities are getting makeovers because residents want a modern look.
With more seniors choosing active and engaged lifestyles, there are more amenities, featuring such things as rooftop bars, health centers, and social events.
Incorporating a modern feel into the kitchen, particularly with an open or partially open design can offer a show.
You'll also want to consider adding cooking centers into the seating areas, such as a brick pizza oven or a barbecue grill in an outside seating area.
The new designs will provide entertainment while also allowing the seniors to gather and socialize while also being able to enjoy delicious foods.
Trend #2: Food Delivery
Residents want to gain access to some of the trends they hear outside of their assisted living facilities, like Uber Eats and Door Dash.
Offer delivery of your menu to their rooms so that they can socialize on their own terms.
Within the kitchen design, more prep tables can be included along with an entire staging area so that food can be packaged to go.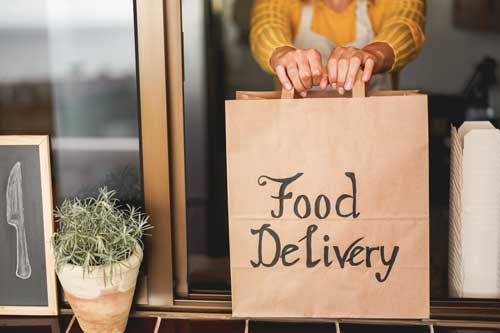 Trend #3: Family-Style Cooking & Cooking Classes
Residents want to be reminded of their home kitchens when they go out.
As such, many facilities are allowing a family-style cooking environment where residents can cook alongside the chefs.
The counters and cabinets simply have to be handicap-friendly. Integrated knee spaces can also make a difference.
When accounting for disabled residents in the kitchen, the layout also opens up the possibility of offering cooking classes.
It can provide a fun activity for the residents and allow them to have a hand in the food preparation and production.
Trend #4: Create a Food Court Layout
Rather than creating zones in the kitchen, you can choose to create zones in the dining room. It allows for a layout that more closely resembles a food court.
Residents can choose what they want to eat by walking up to a station.
They can see the food being prepped and it can reduce the amount of time that they have to wait for their food.
For those with mobility issues, it is possible to create the same opportunities to choose the zones – simply include printed menus and waitstaff.
Trend #5: The Desire for Gourmet
Celebrity chefs have become more and more sought after, and much of that has to do with cutting-edge flavors and gourmet cooking techniques.
You can infuse this into your own kitchen by having modular solutions. Change out the equipment periodically to offer new menus.
You may even want to consider inviting a ghost kitchen into the facility seasonally to give the residents something new.
Designing Your Assisted Living Facility's Kitchen
Once you consider the trends, you can determine what you want to incorporate into your kitchen.
The level of mobility of the residents in your facility and their dietary needs will help to mold some of your decisions. 
Choosing a layout that allows for productivity while offering flexibility is absolutely critical.
At Mathias, we can help with the comprehensive designs and install the various pieces of equipment that you decide on. For the benefit of your residents, everything is designed and built ADA accessible by code.
Contact us today to schedule a consultation and discuss how your assisted living facility can have a premier kitchen and dining room.